About Us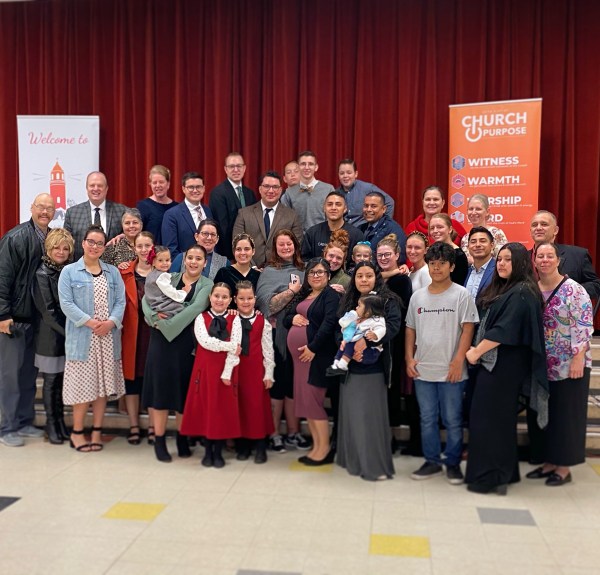 You might be wondering, what's it really like at Inland Lighthouse Church (ILC) of Riverside? Simply stated, at ILC Riverside, we're all about magnifying Jesus and making disciples.
We are motivated by a love for God and a love for people. You won't be met with unfriendly or judgmental people. Our church is made up of imperfect people with every kind of story imaginable. And we can't wait to come along side you to support you in your journey to know Jesus.
No matter what you've been through or what questions you might have about God and faith, our church is a place where you'll find the love, grace, and forgiveness Jesus gives to everyone.
Want to know the best part? Expect to feel God's presence, to be healed, to be restored, to be filled by His Spirit, to feel love, to hear truth preached, to grow, to find community, and much more.
Planning Your Visit
We're so excited to meet you! Here's a few things you might want to know before you come:
PREPARING FOR SERVICE
Services start promptly Sundays at 10am and Tuesdays at 7pm, but you're welcome to come up to 30 minutes early for pre-service prayer, which is the most important preparation for service.
Our dress ranges from casual to formal depending on individual preferences and on the services. On Sunday, typically the attire is more formal (e.g., dresses, suits/ties), but Tuesdays are much more relaxed and casual. However you dress, we just ask that it is modest and appropriate as is fit for entertaining the King of kings.
ARRIVING/ACCESSIBILITY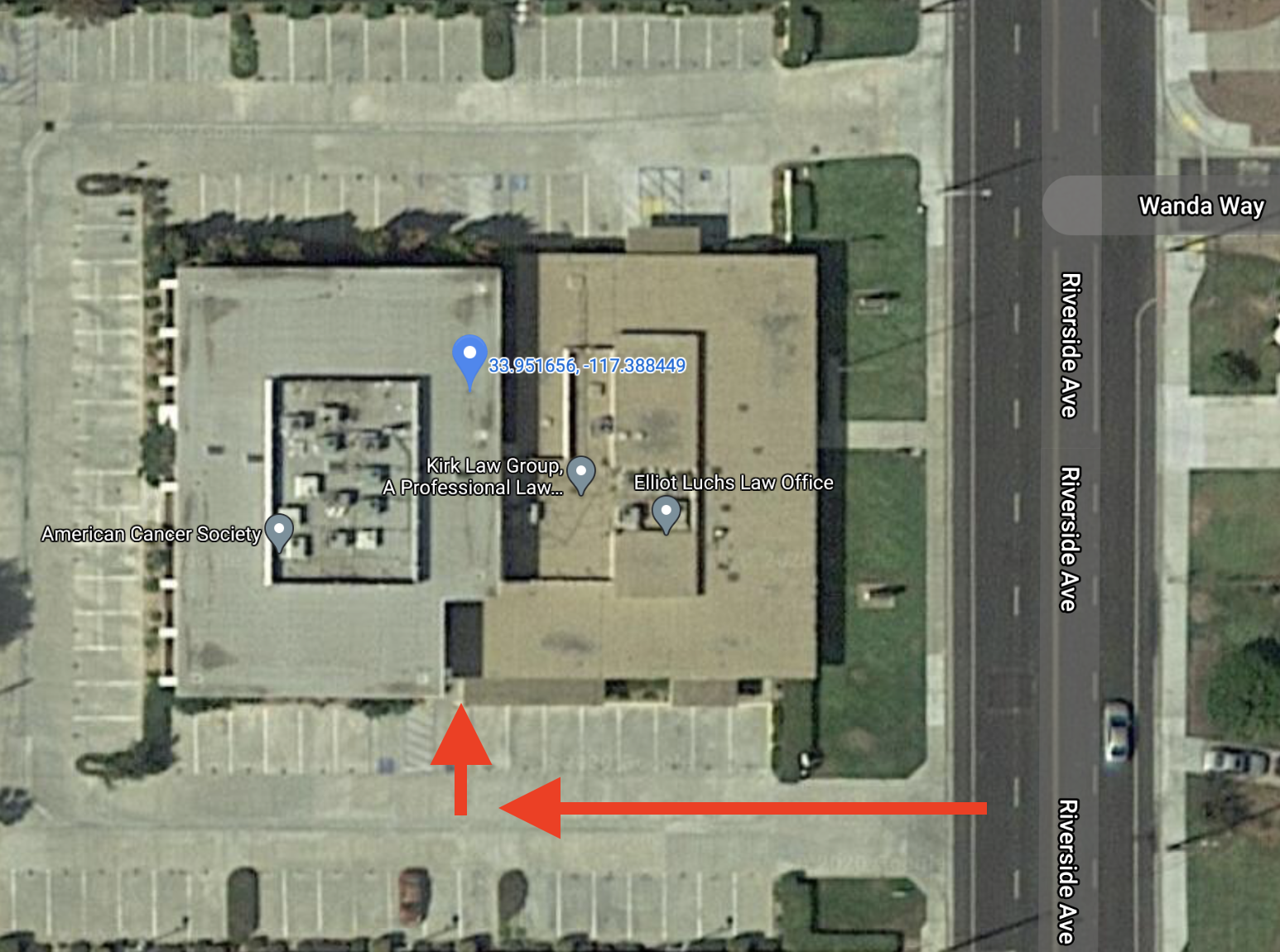 Although there are assigned parking spots nearly everywhere in the parking lot, on the weekends and evenings, our church has access to all of them - so park anywhere in the lot.
The entrance to our portion of the building is halfway down the building in a recessed patio on the south side (closer to the fire station). There will be plenty of signage to guide you in.
We are in an upstairs suite, but there is an elevator in the lobby in addition to the stairs when you first walk in.
When you arrive at the sanctuary (suite 204), a volunteer will greet you and be happy to answer any questions you may have, including helping you find a seat. They will also hand you a Connect Card, which you may choose to fill out and return to them. We just want to send you a thank you email and video message from the pastor if you opt to share your email address.
KIDS/FACILITIES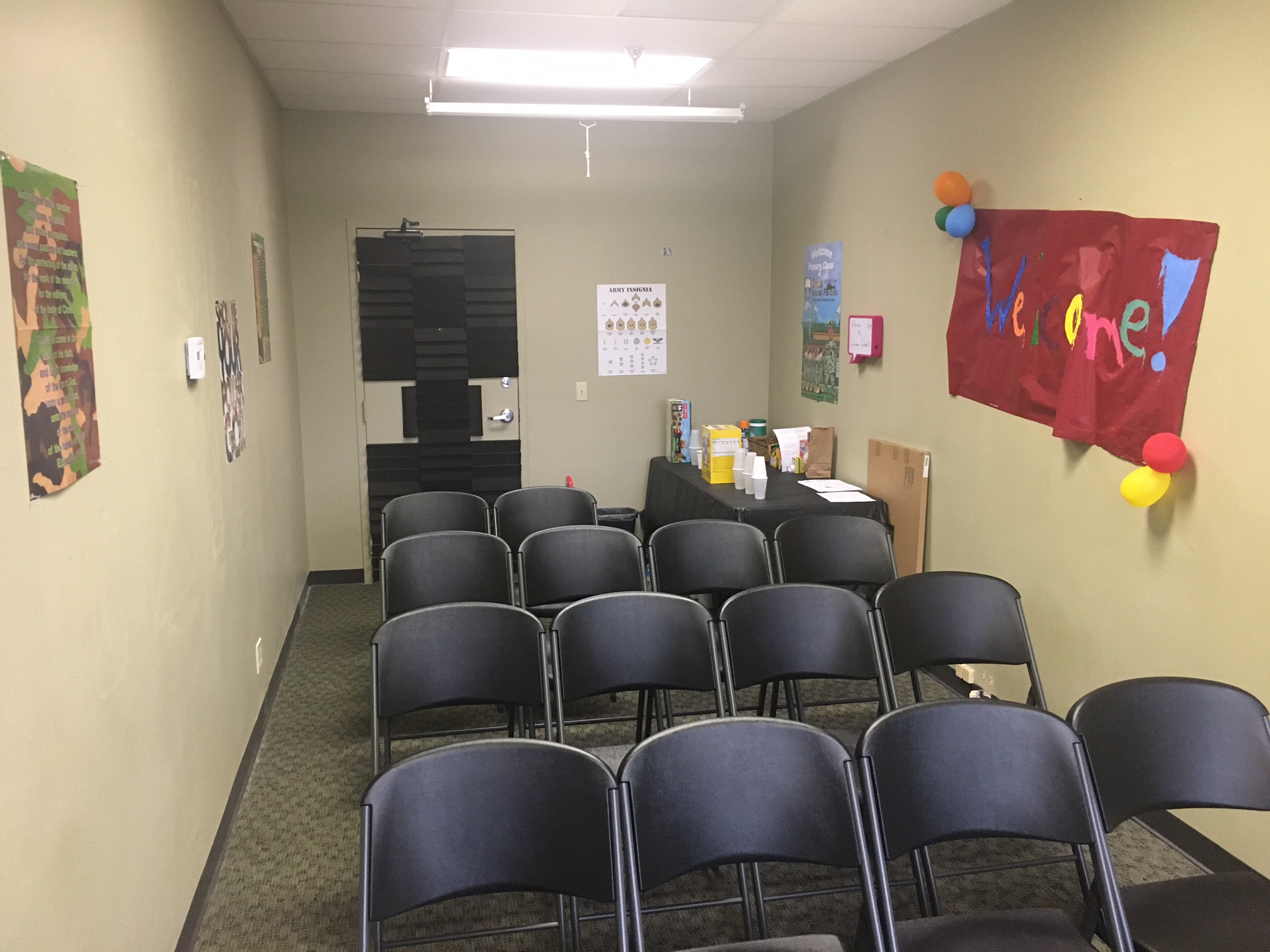 Our Sunday School classroom and multipurpose room (suite 202) is directly across the hall from our sanctuary (suite 204), so if you are bringing your kids and they opt to go to Sunday school, they won't be far away. Kids are, of course, welcome to stay in the main sanctuary as well.
On Sundays, we begin class at 10am, but you may drop off your children as early as 9:30am for prayer and/or games prior to class. Class will end at approximately 11:00-11:15am or once service ends in the main sanctuary.
Our Sunday School teachers are background checked and experienced.
The multipurpose room can also be used as a mother's room or nursery if needed.
Male & female restrooms are available on the second floor just outside our sanctuary.
SERVICE FORMAT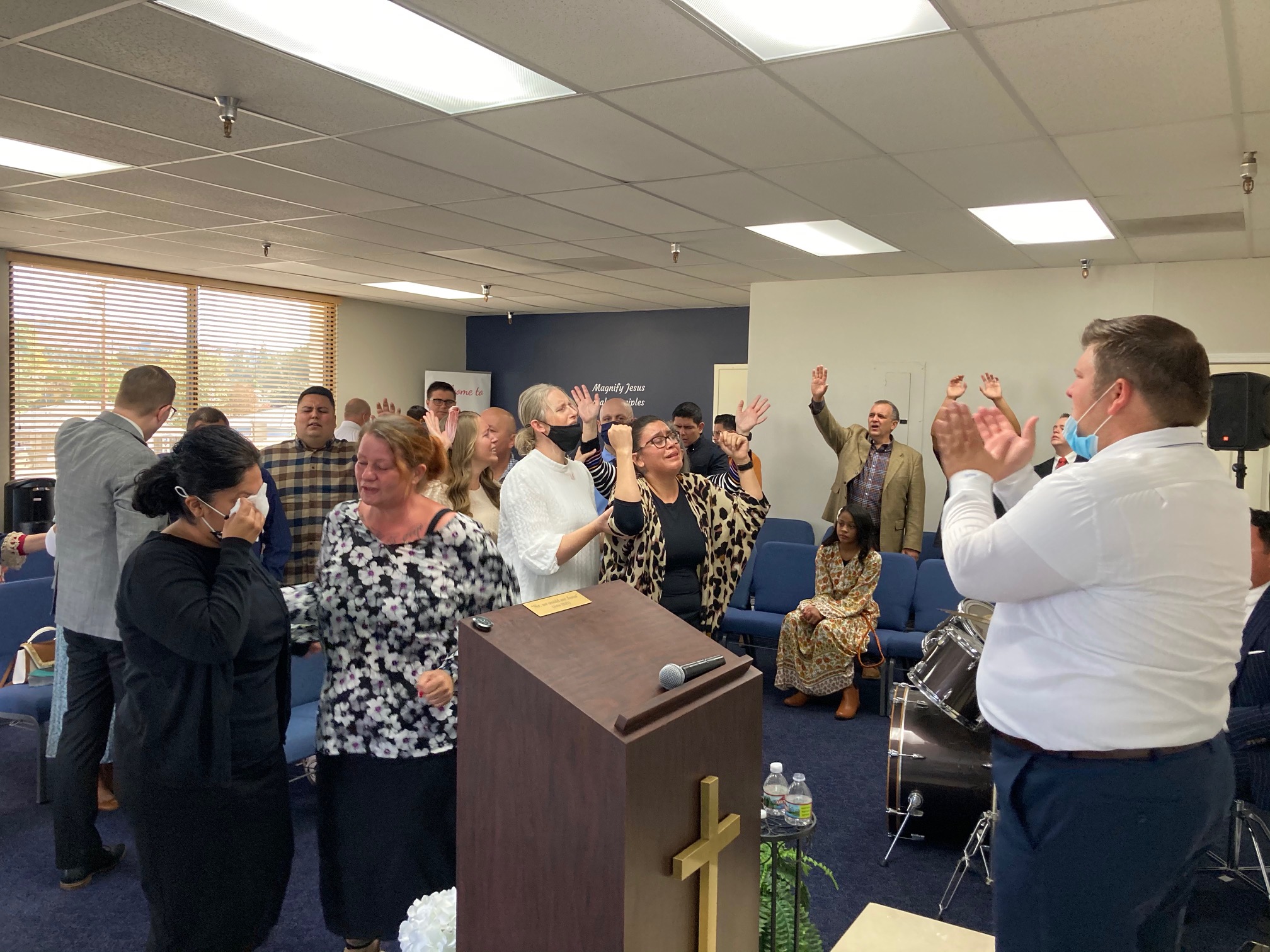 Our Sunday services include singing/worship, giving, preaching, and a time of prayer at the conclusion. The total duration is approximately 1.5 hours.
Our Tuesday midweek Bible study is usually more informal and lasts approximately 1 hour.
Although Bible-toting and note-taking are strongly encouraged, during the service, an overhead projector will help you follow along in singing and in reading scripture.
Following each of our services, we believe in hanging around and spending quality time getting to know one another (i.e., fellowshipping), usually while drinking coffee and sometimes eating donuts.
Our Worship
As a Spirit-filled, Bible-based church, we seek to worship God in spirit and truth according to worship practices found in the Bible.
We raise our hands because 1 Timothy 2:8 says,
"I will therefore that men pray every where, lifting up holy hands."
We clap our hands because Psalm 47:1 says,
"O clap your hands, all ye people."
We sing and play music because Psalm 150 says to praise God with musical instruments and Ephesians 5:19 says to worship
"in psalms and hymns and spiritual songs, singing and making melody in your heart to the Lord,"
We worship with a joyful noise because Psalm 66:1 says,
"Make a joyful noise unto God, all ye lands."
We pray aloud because the early church in Acts 4:24,
"lifted up their voice to God with one accord" in prayer.
We dance in the Spirit because Psalm 149:3 says,
"Let them praise his name in the dance."
We include testimonials, teaching, preaching, and spiritual gifts that build up the body of Christ because 1 Corinthians 14:26 says,
"Whenever you come together, each of you has a psalm, has a teaching, has a tongue, has a revelation, has an interpretation" (NKJV).
We anoint with oil and lay hands on the sick for divine healing because James 5:14 says,
"Is any sick among you? let him call for the elders of the church; and let them pray over him, anointing him with oil in the name of the Lord."